Swiss Onion Soup
In honour of the Zibelemärit (onion market) today in Bern, I thought I would make some Swiss Onion Soup.
(ok, so it's actually French Onion Soup, with some slight alterations.)
French Onion Soup was a seventies classic, much like fondue, where people embraced a specific serving vessel, individual French Onion Soup bowls, and made dinner parties around it. Although it has somewhat faded from popularity, you can still often get it at restaurants (just ask my friend Jackie, who has been ordering French Onion Soup at every Calgary restaurant since 1998).
But what if you don't have the individual dishes?
This recipe makes the soup family style, in a big Dutch oven, to be ladled out into bowls.
Another change here is that the onions are roasted whole in the oven, instead of caramelized directly in the pan. You can make a big batch of these roasted onions, then save the rest to be used in many different dishes—pasta sauce, soups, spreads.
Swissify it by using leftover Zopf as your bread layer, with Appenzeller cheese on top.
a bunch of onions
a drizzle of olive oil
Preheat oven to 190 C / 375 F / gas mark 5.
Trim your onions, taking away any loose outer skin and cutting off the top. Cut a thin disc off the bottom so that they stand flat.
Place the onions in a roasting pan so that they fit snugly. If you have extra space, use aluminum foil to fill the gaps.
Roast for about 2 hours, or until the onions are browned on the outside and soft on the inside.
Trim away the outer skin, as well as any tough layers, then enjoy the tender innards.
7 roasted onions
a sprinkle of sugar
knob of butter
1 tbsp flour
1.25 litre beef broth
a 330 ml bottle of beer
1 tbsp balsamic vinegar
salt and pepper to taste
shot of cognac
a few slices of zopf
clove of garlic
200 g Appenzeller (or other hard cheese), grated
Chop the roasted onions and add them (as well as any drippings from the pan) to a large dutch oven (or similar oven-proof pot) with the sugar and butter.
Cook over medium heat for about 5 minutes.
Sprinkle with flour, stir well, then add the broth, beer, and vinegar.
Turn up the heat and bring to a boil.
Simmer on low heat for at least half an hour.
Preheat oven to 200 C / 400 F / gas mark 6.
Toast the pieces of zopf (in the oven or a toaster), then cut the garlic in half and rub the toast with it.
Take the soup off the heat, stir in the shot of cognac, and gently place the zopf on top. Cover this with the grated cheese.
Bake in the oven for about 15-20 minutes, or until the cheese is melted and the soup is bubbling up around the edges.
Be careful when chopping the roasted onions, they can be slippery.
Any extra whole roasted onions can be kept in the fridge for about a week and used in sauces, soups, spreads, etc.
If you don't have zopf, most other breads will do.
If you don't have Appenzeller, Gruyère is the classic choice, but most other hard cheeses would also work.
An alternative to beer would be wine or a dry apple cider. To make it non-alcoholic, just use more broth and no booze. Vegetarians can use a vegetable stock.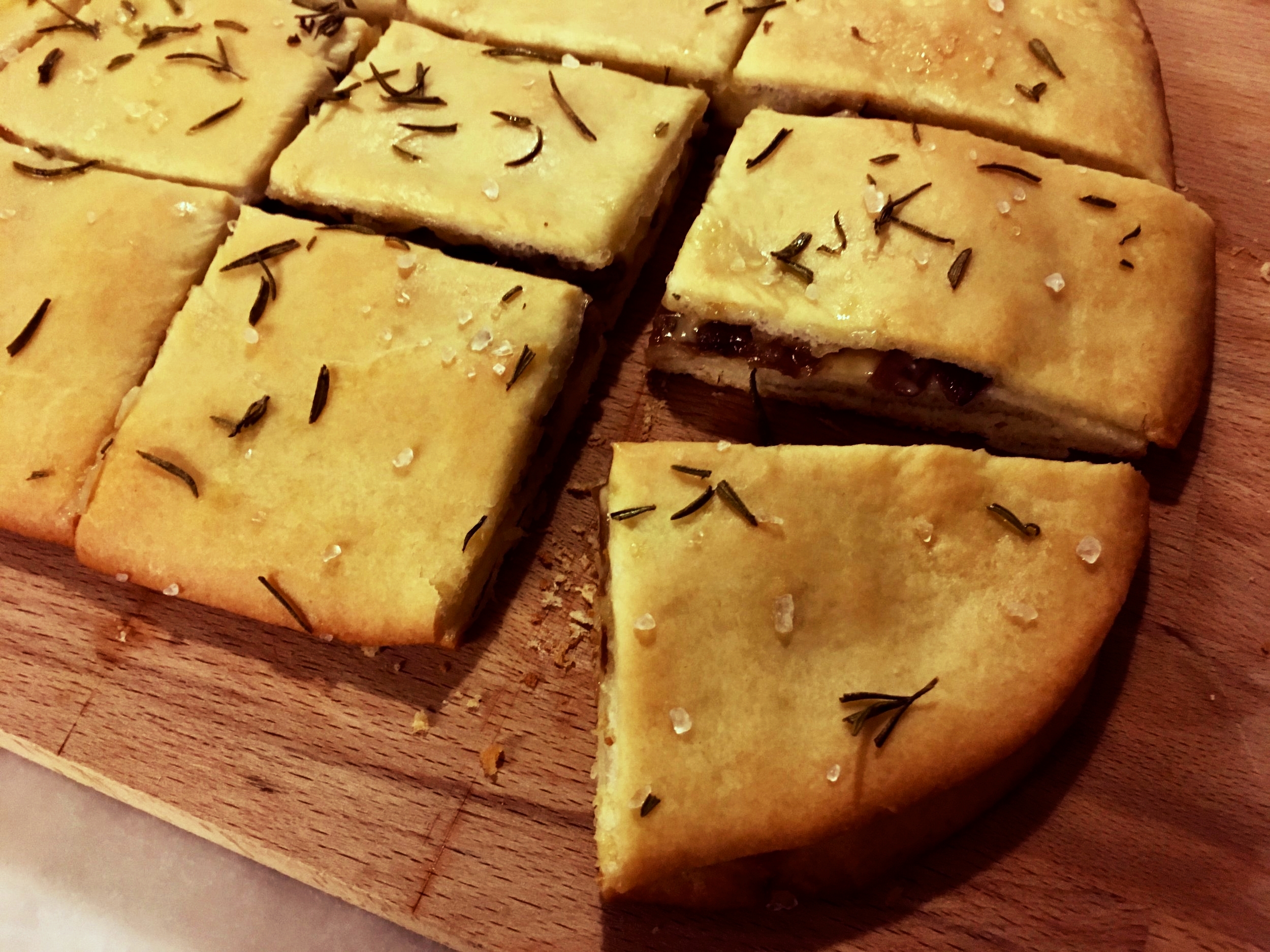 Onion Stuffed Sheet Bread