Alpabzug
My father-in-law knows most of the cows at the Entlebuch Alpabzug personally, and he's probably helped to birth more than a few of them. I asked him to explain what breeds were there on the day:
"Mostly, there are the Brown Swiss, a relatively large, slender cow with big udders. Then there are the original Braunvieh, a slightly smaller brown cow with horns. The Brown Swiss were first bred in America out of the original Braunvieh, to be strong milk producers, and have since been brought back to Switzerland. There is also the Simmentaler Fleckviehkühe, they're the ones with the red spots."
The Alpabzug, or Alpabfahrt, describes the tradition of farmers bringing their cows, who have spent the summer in higher alpine pastures, back down to the valleys for the winter. The farmers decorate their herds with beautiful flower garlands and the cows wear their finest bells. The long walk down from the mountain pastures begins in the wee hours of the morning and they can be walking for four to six hours before they reach their farms.
The Entlebucher Alpabzug takes place in Schüpfheim, and more than ten thousand attend to watch the cows, sample local products (especially cheese) and generally celebrate Swiss farming life.
You can hear the sound of the cowbells before you can see the cows themselves, and by the time the herd is in front of you, you can feel the reverberations in your chest. It's deafening.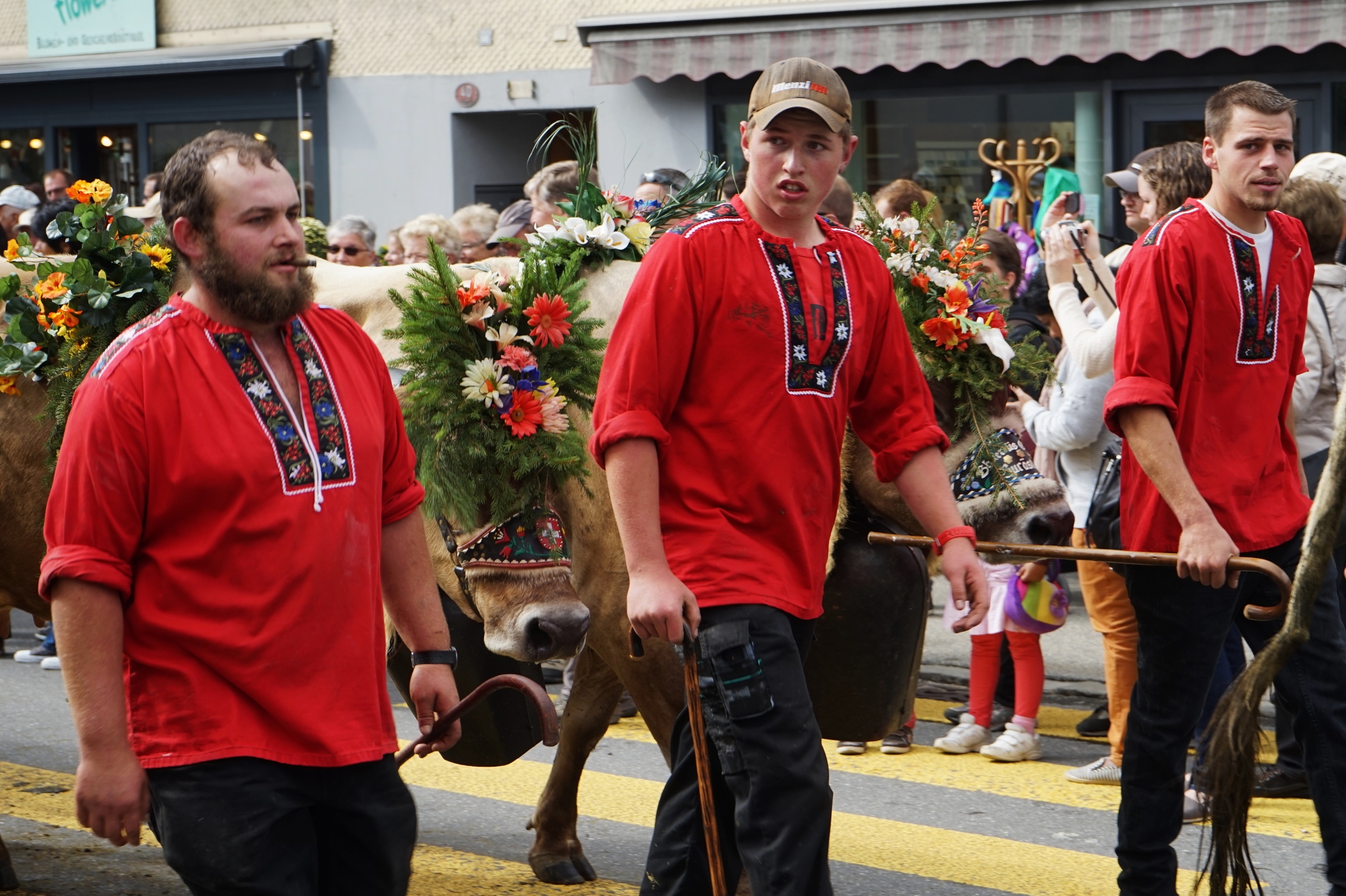 And let's talk about the real reason that people are willing to wake up early and celebrate the cows coming home on a frosty autumn morning...
A light coffee base (so you can drink five without your heart exploding), plus a good splash of Zwätschga (plum spirit) or Träsch (apple or pear spirit), a cube of sugar and maybe a drop of cream too. Makes for a warm and rosy morning.
The saying goes that you should be able to read a newspaper through the liquid, otherwise the coffee is too strong, or not enough booze has been added...
These six, plus the ones they were currently drinking...